Lessons Learned from an AV Newbie
If you had told me in early 2021 – when I was the Monmouth College Head Women's Lacrosse Coach & Senior Woman Administrator in Athletics– that I'd be here today, an AVIXA-certified, audio-visual marketing professional, I would've raised an eyebrow. Quite frankly, that's a 180-degree career turn.
Yet here I am, with a year and a half on the RoomReady team under my belt. It's been a whirlwind since I began – getting to know the industry, making new connections, and understanding the role RoomReady plays in enabling the digital workforce. And I wouldn't have it any other way.
I recently had the opportunity to share my experiences as a young AV professional on a panel sponsored by Atlona, a RoomReady partner. You can watch the full panel here, but I also wanted to share a few key takeaways for the Millennials and Gen Z'ers considering a career in AV. Let's get into it!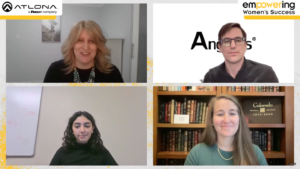 Izzi Demara, Marketing Coordinator at RoomReady, pictured bottom right.
AV is more critical than you know
Research is clear on what Millennials and Gen Z'ers want out of their workplace – and it should come as no surprise that the paycheck isn't their most important incentive. Younger generations want a sense of purpose, to know the work they're doing really makes an impact. Millennials and Gen Z'ers are also among the first generations to see hybrid and remote work as mainstream approaches to their workday.
AV checks both of those boxes. Until I started working at RoomReady, I didn't truly understand how important a role AV integrators play in making this new hybrid world possible. AV keeps businesses connected with their employees and customers around the globe. AV expands educational opportunities through remote learning. And it enables an inviting user experience – so you can see firsthand how your solutions make the workplace and classrooms tick. If you're looking for a career where your purpose is clear, AV is a good route to take.
"I don't know" can lead to the best answers
One of the first things I noticed after joining the AV industry is just how many acronyms we use – it's basically like we have our own language! Of course, this can be intimidating for any AV newbie. And the first time a junior team member sits in the room listening to a conversation between senior-level executives, or attends a presentation with clients, uncertainty about whether they should speak up can prevent them from learning.
If you're interested in AV, or you've just started your first AV job, don't be afraid to ask questions. AV is a tight-knit community, and we're always happy to help a fellow professional out. Attending trade shows, asking to ride along on a client visit, or even putting 15 minutes on someone's calendar for clarification after a meeting shows your initiative and desire to get things right. And it could even open doors to career paths in AV you've never considered!
Find guidance for your path
If you want to take your AV learning one step further, making industry connections – whether in your workplace, through an industry organization, through LinkedIn, or even on Sunday Mornings' #AVintheAM Chat hosted by Chris Neto on Twitter– are all great options. Every senior-level executive has been where you are right now. They know the questions you have, they understand the aspects of AV that might take a little longer to learn, and they can cheer you on as you grow.
Choosing a mentor is another great option to expand your AV knowledge. You don't even need to limit yourself to one mentor. In my first year at RoomReady, I leaned on my then-manager, Lisa Miller, to show me the ins and outs of marketing for our unique industry. But I also relied on Dave Hatz, our VP of Technology, to help me understand how our AV solutions work, and how they're making a difference for our clients. Gathering a range of expertise across departments has made me a stronger marketer that much faster.
One last piece of advice…
Perhaps my favorite career-related quote is "Don't focus on the iceberg – focus on the direction of the ship." In the early days of a new job, it can be easy to think about all the icebergs in your way: "I don't really understand this concept," "I've never executed that tactic before," etc. But thinking about the iceberg isn't going make it go away – and it will only distract you from progress. Think about the steps you're going to take to steer clear of the iceberg. Your effort will take you in the right direction.
If you're just now entering AV, or graduation is on the horizon, I wish you the best of luck! And of course, you can always reach out to me for advice – idemara@roomready.com.