The RoomReady Review – June 2020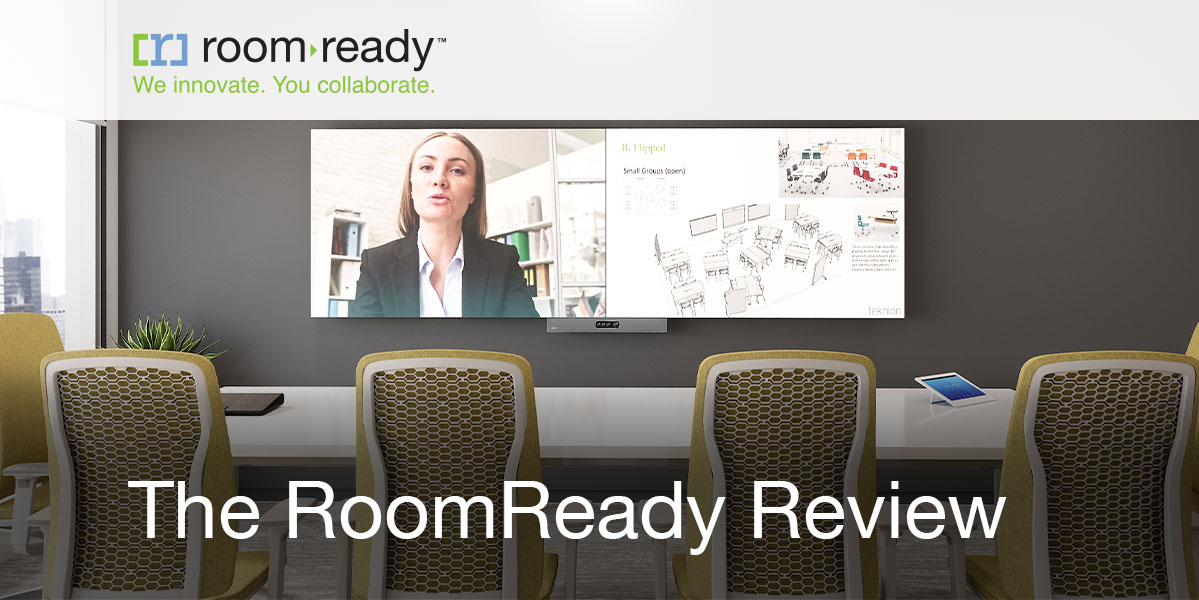 VOL 3 • June 2020
IN THIS ISSUE:
How to prepare your meeting rooms for return-to-work
RoomReady meeting room checklist
Three returns you should expect with collaboration technology investment
---
LETTER FROM AARON MCARDLE
Starting Your Return to Work? Don't Forget the Meeting Room
The Q2 buzzword has easily been "Return to Work." As states loosen restrictions and life begins to move forward with the new normal, many are beginning to plan or are in the process of returning to the office. While there's no single approach for creating and implementing a return to work plan, one thing is certain: offices need to do more than just encourage social distancing and washing hands, especially when it comes to using meeting rooms.
Studies have already shown that meetings are an essential part of work life. In fact,
top-level management spends upwards of 50% of their week in meetings
. So, how can we work to keep meeting spaces productive, yet safe for employees? This month's issue of The RoomReady Review will explore this question in detail.
Sincerely,
Aaron McArdle
CEO, RoomReady
| | |
| --- | --- |
| | FEATURED |

The Return to the Physical Meeting Room
According to PwC, "Navigating the COVID-19 pandemic and its aftermath will be one of the biggest challenges of our time."
Although we're still in the early days of the reopening, the return to work shift is happening. Chances are you've likely already started working on your return to work strategy or you might already be implementing it, but does it take into account your meeting rooms? If not, here are three ways you can keep your meeting rooms productive, yet still safe for employees.
| | |
| --- | --- |
| | MEETING ROOM FACT OF THE MONTH |
57%

say they would consider bringing voice command technology to meeting rooms

As we work towards the new normal, voice command technology provides the ideal opportunity for offices to create no-touch meeting rooms.
| | |
| --- | --- |
| | COMPANY ANNOUNCEMENTS |
RoomReady Return-to-Work Checklist

Feeling overwhelmed with your return to work strategy? We've created a simple checklist to make sure you account for the important aspects of meeting room preparation.

Alexa for Business Skills Coming Soon

RoomReady is releasing Alexa for Business meeting room skills that will allow you to find an available meeting room and start your meeting.
| | |
| --- | --- |
| | ROOMREADY IN THE NEWS |
Capitalizing on Conference Solutions in the New Normal
Featured in this article by Commercial Integrator, RoomReady CEO Aaron McArdle discusses how RoomReady technology can keep remote workers connected.
Three Returns You Should Expect with Collaboration Technology Investment
In this recent article by MyTechDecisions, RoomReady CEO Aaron McArdle discusses how every successful company is a technology company. From banking to plumbing, technology is at the heart of modern business.
Webcam Shortage, Price Gouging is an Opportunity for Integrators
As most companies plan to retain some aspect of remote work, quality audio and visual equipment is becoming harder to find. This Commercial Integrator article discusses how technology companies, such as RoomReady, are helping alleviate shortages by offering complete remote work kits to keep employees connected.
| | |
| --- | --- |
| | LATEST MEETING ROOM NEWS |
Productive Remote Workers Do These Five Simple Things Every Day
Staying productive while working remote may come easily to some but might be difficult for others. This Fast Company article outlines five ways to stay productive while working from home, from converting their commute to updating their status.
---
Return to the Office: Now CIOs Face Their Next Big Challenge
When COVID-19 first hit the United States, CIOs were tasked with creating remote working plans and preparing technology in a matter of days. Now that we are beginning to return to the workplace, they are faced with their next biggest task, shaping the office for new regulations while keeping remote workers online.