It's Time to Get Serious About the Future of the Office
Over the last three years, the debate about remote vs. in-office work has started to look like a circle.
We went from being in the office five days a week to being remote five days a week overnight. Then, as COVID vaccines began to roll out and businesses began reopening their offices, there was a sense that workplace culture had crossed the point of no return. We hit a point in which allowing employees to be entirely remote or hybrid was the new normal. And while that approach seems to have stuck for most offices, we're hearing whispers from companies that they are requiring leadership to be in five days a week. Other companies are beginning to enforce hybrid policies more strictly.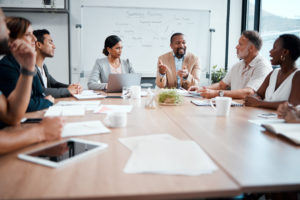 The problem is that while senior leaders have thrown out multiple reasons for returning to the office – being in the office strengthens collaboration or helps build company culture – many haven't quite answered the question of how the office will be used to further these ends. Offices were designed for a different purpose pre-pandemic. Now, the solitary work we did in cubicles can just as easily be done at home, while collaboration spaces are in far higher demand.
Collaborating to…improve collaboration
Last month I attended Crestron's 2023 Modern Work Summit, a two-day event dedicated to exploring the challenges of building a modern office and bringing together top AV minds to solve them. Execs from companies such as Microsoft, Zoom and Intel all offered their thoughts on the future of the workplace, as well as their role their technologies will play in helping customers bring it to life.
It was a productive event, but one key takeaway stuck in my mind above the others: we must make the workplace a magnet, rather than a mandate. Employees aren't receptive to the arguments that being in the office improves productivity, and depending on the company's pre-pandemic culture, the team-building argument might not be attractive either. They've been working from their home offices, set to their liking, with stocked kitchens and a 30 second commute. So, unless their productivity has made a demonstrable drop in the last few years, the requirement to do those same tasks in a cubicle won't be greeted with excitement.
Instead, we need to think about how employees can get the most of their work-from-anywhere time, and make the most of their in-office time – and, dare I say it, enjoy their time on site! For companies looking to build community, this means rethinking the office layout from the bottom up, e.g. getting rid of cubicles and using the open space to set up collaborative areas. It also means repurposing spaces that were meant to build community when people were in office 40 hours a week. Employees can enjoy their pool tables and cornhole set at home. The activities conducted in the workplace should be ones that simply have no equal in the employee's remote setup – and that approach often requires the right combination of technologies to pull off.
Technology that makes collaboration work
Ever since the beginning of the pandemic, the RoomReady team has focused on evolving our technology to keep up with the shifting demand around in-office and remote work strategies. At first that meant focusing on technology that would help employees replicate their in-office setup in their home office. Now, as some employees return to the office while others remain remote, the focus is on ensuring equitable meeting experiences for employees, no matter where they participate.
As you're thinking about how best to utilize your office space as a magnet, don't forget to consider how technology factors in – our team is here to help. We can help integrate your collaboration platform into your meeting spaces, choosing the right mics, cameras and panels to ensure clear communication between in-person and remote participants. But we can also help you think through AV in larger spaces, such as ballrooms and auditoriums, that ensure great collaborative experiences when the whole team needs to gather in one space. Once you've decided how to be the magnet, we can help you execute.
A special thanks to the team at Crestron for a great summit! I highly recommend watching the keynote here. We're looking forward to 2024's summit – and, in the meantime, helping companies bring their workspace strategies to life. You can always reach me at dhatz@roomready.com if you'd like to discuss your strategy.