AI Plays a Bigger Role in the Meeting Room Than You Might Know
By now you've probably heard of – or even experimented with – ChatGPT, the generative artificial intelligence tool that can write epic poems and solve complex math equations in mere seconds. It's a huge leap forward in how humans interact with AI, one that seemingly occurred overnight.
Truthfully though, ChatGPT didn't quite take AV professionals by surprise. We've seen AI's power change the way collaboration technology and platforms operate, and the evolution has only accelerated since the pandemic. There's no stopping AI in the meeting room now, especially as its innovations have made it easier to achieve meeting equity between in-office and remote workers.
Here are just a few ways AI – and AI-powered technologies have changed the way we meet: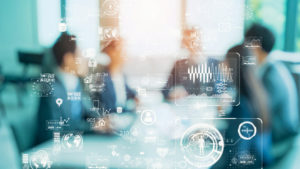 Video: Needle in a haystack? No problem
Visibility was once one of the biggest barriers to meeting in a hybrid environment. Those in the meeting room could see and hear each other clearly, but those participating remotely struggled to understand a speaker at the other end of the conference table. We know that a lot of communication is non-verbal, meaning remote participants missed out on critical body language to help interpret and answer a question appropriately. Not anymore.
Using camera tracking technology, collaboration platforms have learned how to better isolate speakers in a conference room. AI technology helps the camera frame each participant into their own postage stamp-sized area, allowing for quick refocusing and resizing whenever the speaker changes. And as the participant speaking remotely changes, it pushes their video to the center of the screen, allowing in-office participants to see their face clearly.
Of course, while we want to see our co-workers' smiling faces, we're not really interested in seeing all the activity in the background (unless it's their dog, in which case please put them front and center). AI offers a solution to that, one we're probably familiar with from the pandemic: keeping you in focus while blurring out the background. AI-driven technology helps collaboration platforms learn how to differentiate between a speaker and their environment, allowing for a more personal, less distracting conversation.
Audio: The same in any language
Much like we want to avoid any potential distractions or embarrassments by blurring our screens, we don't want any noise interrupting ourselves or our co-workers – and AI offers us a solution. AI technology understands the frequency of the speaker's voice vs. the other noises around them, helping to cut down on noise from outside traffic, noisy A/C units or the TV in the room next door, for example. For those times you can't go on mute, AI has your back.
Another AI-powered technology, natural language processing, is helping us take equitable meeting room experiences global. In the past, a meeting involving a business in one country and a customer in another would require one to speak in something other than their language – or have a translator on hand, an ask that significantly limits potential meeting times. With natural language processing, AI filters dialogue coming from all languages involved in a call and translates it in real time, enabling hassle-free global collaboration.
How much is too much?
While each of these technologies can make meetings a far more pleasant experience for all involved, naturally the question arises – how is AI using all this data it collects? For example, a transcription tool makes it easier to pay attention to a conversation without taking endless notes. But if that conversation involved sensitive or proprietary info, is there any concern that info could be linked?
Developers will likely focus on building a border between AI-collected data privacy and user experience/benefit in the coming years. However, in an era of ubiquitous smartphones and social media, it's hard to actively participate in society without some data collection. For now, consent is a good middle ground. Before starting a recording or discussing sensitive topics, confirm everyone in the room is okay with utilizing AI during your conversation.
Behind the scenes – but leading the way
The AI functionalities driving meeting room technology might not be able to write a 10-page essay like ChatGPT, but it's hard to understate the positive impacts it's having on the meeting room experience. With more companies choosing to adopt hybrid work policies, and our economy becoming more global, tools that allow us to communicate effectively across town, across the country and around the world are critical.
Interested in chatting more about AI, or how the tools can improve your meeting room experience? Reach out – I'm always available at dhatz@roomready.com.