FAQ
What should I look for when ordering Cisco endpoints?
When ordering Cisco endpoints, there are several options, and one of them is a spare. As a spare, these products do not come with power cables, phoenix connectors, rack ears, or anything else, just a codec. Sometimes this is as expected, but other times we need the full product and installation is slowed down as we wait for a replacement. We have seen an uptick in orders of spare quad cameras recently, and that spare does NOT come with the power supply or mounting brackets.
Be careful what you order. You may also reach out to your RoomReady project manager or engineer for help!
Can I use the RoomReady T10 wall mount with a Cisco Generation 2 T10?
Cisco launched a 2nd generation T10 panel with its newest Room Series endpoints. The new panel has some changes, but the original RoomReady wall mount can work with some slight adaptations. The image on the left explains how to edit an existing mount; or if ordering new, just let us know you have generation 2 touch panels, and we will pre-cut before it ships.
Tip: Look at the Cisco logo to figure out if you have a generation 2 touch panel.  The generation 2 panels have a Cisco logo on the front, and the generation 1 panels do not.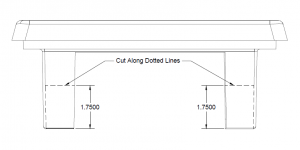 How do I Install a Touch 10 Wall Mount?
Touch 10 Wall Mount by RoomReady allows the Cisco Touch to be mounted on the wall instead of a table. It eliminates cords to trip on and gives you the freedom to use the room how you want instead of being tethered by what the cords will let you do.
Below is a quick tutorial on installing the wall mount.